JC400 Dual - Channel LTE Dashcam
The JC400 camera system is ideal for long-distance hauling and everyday driving. A cabin-facing camera records everything inside the car as well as what happens on the road. As an alternative, you can use an IP67 waterproof camera.
Its other features include live tracking, reckless driving, emergency calls, and more, making it ideal for preventing crime, recording bad drivers, and quickly resolving traffic accident disputes.
Cameras operating simultaneously
With the JC400 dashcam, you can monitor what's happening inside with the integrated road-facing camera and an IP67 waterproof camera that can be mounted on side mirrors, trunks, trailers, or dump bodies based on your specific business needs.
You can have real-time and retrospective visibility into your fleet by recording almost everything that occurs on the road, in the cab/trailer, or in the rear.
Cloud storage for event videos
The JC400 will capture crisp, clear video clips in the event of a collision or reckless driving behavior, and upload them to the cloud for later review. With the reliable 4G module, data can be transmitted to the cloud-based platform faster, allowing you to respond or act quickly.
Driving Behavior Analysis (DBA)
Taking advantage of data on the reckless driving behavior of your drivers will help reduce accident rates, rate or coach drivers in order to increase safety awareness on the road, and improve fuel economy. As a result, your insurance costs can be further reduced.
Intense acceleration
Hard braking
Sharp cornering
Collision
Monitoring in real-time
With the GNSS module, fleet vehicles and cargo can be located precisely in real-time in order to improve their efficiency. You can then check these history routes if issues arise later to see if anything unexpected happened during transit.
Panic Button
An emergency call will be initiated upon pressing the panic button (SOS) by the device to the preset emergency numbers and the back office until the call is answered. This important event will also be flagged for later review.
External SOS buttons can be installed within easy reach of the driver or passenger to give peace of mind.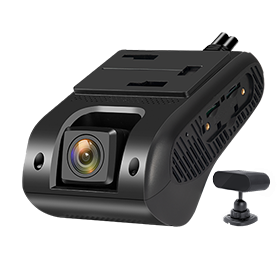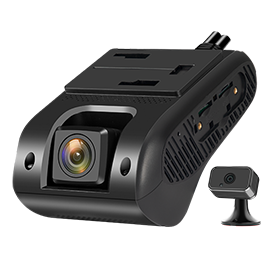 Specification
Network Connection
WiFi
2.4GHz, 802.11 b/g/n
BT
BLE 4.0
Eurasian Version
FDD LTE: B1/B3/B5/B7/B8/B19/B20
TDD LTE: B38/B39/B40/B41 (100M)
WCDMA: B1/B2/B5/B8
GSM: 850/900/1800/1900MHz
American Version
FDD LTE: B2/B3/B4/B5/B7/B12/B17
TDD LTE: B38/B41 (100M)
WCDMA: B2/B4/B5
GSM: 850/1800/1900MHz
Configuration
CPU
Quad-core 1.4GHz A53
Operating System
Android 8.1 GO
GNSS
GPS+BDS
Sensor
6-axis
Mic
✓
Speaker
✓
Data Interface
Micro USB 2.0
Memory
TF card (Max. 256GB)
SIM Card
Nano
LED
Red (Power), Blue (Cellular), Green (GNSS)
Camera
Main Unit
Front camera: 1920×1080/25FPS/F2.2/full color
Subcamera (Optional)
1. Remote cabin-view camera: 1280×720/15FPS/F2.0/full color in daytime & monochrome in dim light2. IP67 blindspot camera: 1280×720/full color around the clock
Video Coding
H.264
Others
Battery
External: 450mAh
Power Supply
Power cable: B+/ACC/GND
Operating Temperature
-20℃ to +65℃
Operating Voltage
9-30V DC
Device Weight
233g
Device Dimension
109x69x52mm
Certifications
FCC/CE/ROHS
*This product is subject to our final interpretation. Please note that all information is for reference only and is subject to change at any time